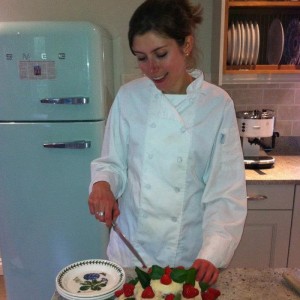 I find food inspiring and I like to share my enthusiasm for this in my work. My cooking has introduced me to a number of exciting locations and interesting people all of which has helped to broaden my culinary repertoire. I like to use this experience to create innovative and tailor made meals for my clients.
My passion for cooking developed at University where I enjoyed nothing more than hosting a themed dinner party! As an art student I particularly thrived when experimenting in the kitchen and being creative with my ingredients. I think these are skills which have stayed with me and help me to produce unique and inspiring dishes.
I continued with my cooking in the French Alps catering for hungry skiers in my own chalet kitchen. Following from this I also catered for a walking holiday company in Wales which led me to producing my own Cookbook to feed the needs of the demanding walkers!
Subsequently, to take my cooking to a more professional level I studied at Leiths School of Food and Wine and took their Advanced Diploma. This was a very intense course and was valuable training for working in London cafes including The Wild Food Café in Covent Garden.
My interest in food encouraged me to study nutrition at the College of Naturopathic Medicine which helped me learn about cooking for different dietary requirements and creating nutritional meals for all ages.
In addition to working as a chef I have also worked as a cookery teacher doing informal home cookery classes as well as larger group classes. I love working with others and sharing my joy of food and knowledge of cooking.
Since leaving Leiths I have used my skills to work in chalets and on yoga retreats abroad, but today most of my work is based in South London where I live. I have specialised in creating healthy family meals and particularly catering for those with dietary demands that would otherwise struggle to find easy meal options.
To cater with the current climate I am focusing on delivering freshly prepared meals for the fridge and freezer.
My Food
Here you can see a few examples of what I can cook for you and your family. Hungry for more? Why not take a look at some of my Sample Menus…
You can also read about my typical day to see what I'm all about here.
Testimonials
"Melanie came to work for us in January 2014. She immediately understood what kind of food we like and is a master of preparing food that is not only light and healthy but also beautifully finished and presented. She is a very imaginative cook and keeps abreast of current food trends. When presented with a fridge full of random ingredients, Melanie always produces the most astonishing and delicious food.
She is incredibly hard working, conscientious, reliable, very kind and totally honest and trustworthy. She has a key to our home. She has a wonderfully sunny disposition and is unfazed by any requests made of her and rises to every challenge with grace and humour, whether it be an impromptu lunch for unexpected guests or a picnic lunch for twenty.
She is meticulous about cleanliness and leaves the kitchen absolutely spotless. She has also done many special celebratory days for our large family, birthday parties, a Naming Day for our grandson and is soon to prepare a cocktail party for the engagement of our daughter.
Melanie is a great joy, not only to myself but to all of our family and many of our friends who have met her.
We feel enormously lucky to have her in our lives."
– Mrs Shakinovsky, London
"We have employed Melanie many times over the past four years for various functions ranging from dinner and drinks parties to home and freezer cooking. She is very organised, extremely efficient and a lovely person to have in your home.
Melanie is very flexible and will work with her clients' suggestions as well as providing her own inspirational ideas, recipes and natural flair in the kitchen. It is very reassuring to know that when entertaining at home someone very experienced is in control in the kitchen. David and I are both experienced cooks so when we hand over our catering to someone else we like to know that it will be of a very high standard. From the time she arrives to start work to when she leaves, Melanie has a positive, organised and smiley approach to her work.
We have made various recommendations to friends and colleagues who have since employed Melanie both here and in Europe and who have been extremely complimentary about her work.
I have no hesitation recommending Melanie and can vouch for her professionalism, commitment and that she really is an excellent cook."
– Mrs Hunting, West Byfleet

"Talented, professional, flexible with a vast range of delicious options and ideas that relate to dietary needs and preferred tastes, Melanie's cooking has just been invaluable to our family. Everything she cooks is delicious and we always look forward to her meals each week. She is wonderfully talented, inspiring and adaptable. We would recommend her to everyone as long as she continues to cook for us!"
– Mrs Gordon, Chiswick

"Mel was absolutely fantastic. From her prompt email responses and great food suggestions to her cool and calm attitude on the day – she really put me at ease before my guests arrived as she just got on with it! The food was delicious with lots of approving nods and "mmmms" from my guests! Now I am just looking for an excuse for another party so she can come back!"
– Ms Finlayson, London